TJ's Pretzels
Logo, print materials and signage for a pretzel and snack shop in Brigantine, NJ
I developed a theme and visual style for a pretzel, snack and ice cream shop opening in Brigantine, NJ. Details on how the theme ties into local history are below (see the story below Meet TJ).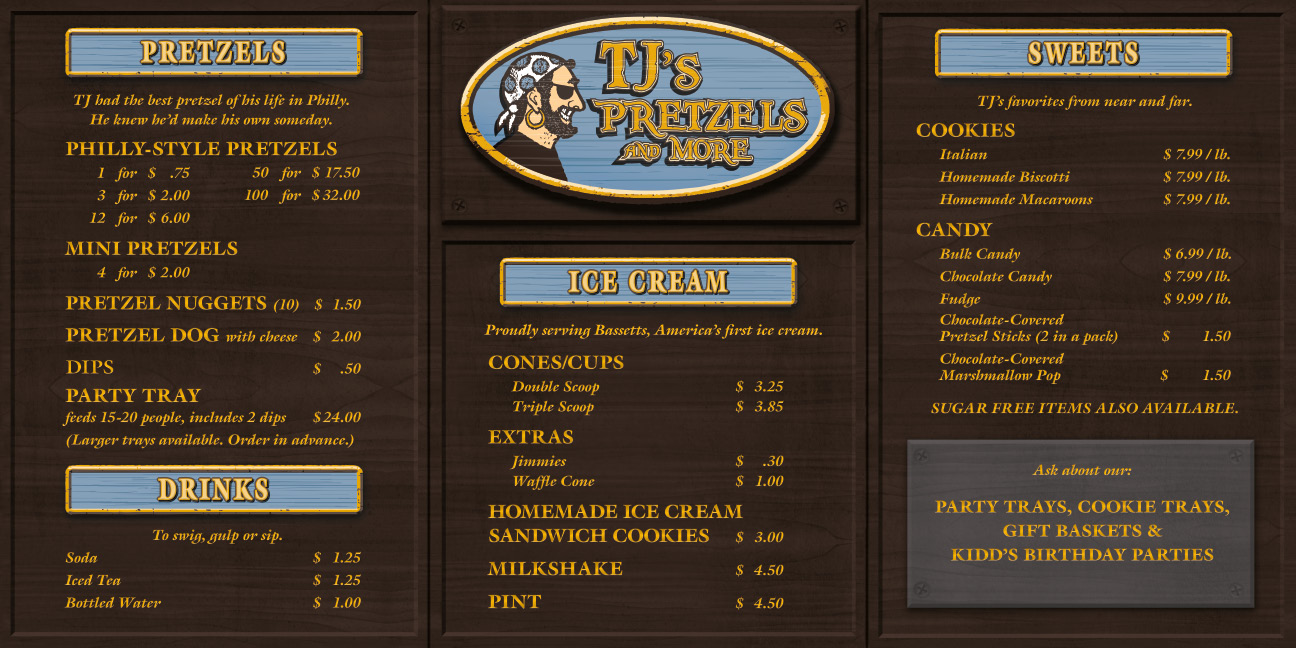 Full legend to accompany (an eventual ) full-length portrait of TJ as part of the store's decor.
Welcome to TJ's! Drop anchor here awhile.
Who's TJ, you ask? That's me. Timothy Jones. Terrible TJ, one of the hairiest and
scariest pirates ever to hoist sail at Brigantine. First mate to the famous Cap'n Kidd.
And first in line for a share of his treasure. Disappeared in the year 'Ninety-Eight—
that's 1698. It's a mystery to this day.

Not to you, me hearties. You know where old TJ came ashore, right enough. 
Look, can I trust you? Truth is, I'd had enough of pirating. Captain's treasure was a mighty
haul— too much for one man to bury. I gave him a hand, in exchange for my share
then and there. So I could start an honest business here at Brigantine.
See, a seafarer knows his snacks. You never know where your next meal is coming
from, so you always pack a pocketful. Something salty. Something sweet—a pirate
has a fearsome sweet tooth.

I remember the night we slipped into Philadelphia, and I tasted my first pretzel. Big
as the rope to tie a man's hands, and salt as Davy Jones' Locker. Then there was the
run to the islands for the sugar cane we craved.

Now I'm the Proud Proprietor of TJ's. Hand-making, hand-picking, hand-dipping
all the good things. Always just salt enough, just sweet enough—nothing but the
best for you, shipmates. These days no one fears old TJ. The little ones even pull my
beard. And that's just the way I like it.

Enjoy!
TJ